Collections
The collection of the Melrose Area Historical Society is stored and displayed in the Melrose Area Museum.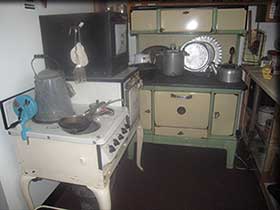 This collection represents the communities and townships within School District 740. Because the people of the area recognize the value of preserving their history and heritage for many generations to come, the collection has grown rapidly over the years and now totals more than 2000 indexed items. Most of these are on display in the various rooms of the museum.
Below are samples of the items and histories that are depicted in these displays. You will want to visit the museum to truly appreciate the extent of the collection.
Native Americans | Melrose Area Hospital | The Convents | Capt. James Gallagher
Melrose Milliners | Air Ace Francis Lent | The Melrose Theater | The Lindberghs
The original inhabitants of this area were members of several prehistoric cultures. A subculture called the Malmo focus lived here in the Middle Wodland Period, roughly between 300 to 1000 A.D. In 1963 a burial pit was uncovered near Middle Birch Lake north of Melrose. It contained the bones of three people thought to be warriors, clam shells, and an intact pot. By the mid 18th century, the inhabitants were probably all Wapeton Dakota. The Sauk River may have been their main 'war road' in their ongoing battle with their traditional enemy, the Ojibwa. The Dakota were expelled from Minnesota after the Dakota Conflict of 1862.

Melrose Area Hospital had its start in February 1916 when Drs. Pierre Hilbert and Henry Goehrs asked Mary Pfeiffer, a registered nurse, to open the house at 107 W Second St S, where she lived with several family members, as a hospital. This facility had 5 patient rooms and an operating room. In 1921 Pfeiffer married Joseph Stundebeck, one of her patients, and the hospital moved one door west, where it operated until 1925. Railroad workers were frequent patients there. In October 1925, Dr. Anthony Meyer, who had a hospital in his second floor offices on Main Street purchased the large house built by Edwin Clark, (now the site of the City Center, and converted it to a hospital. The west wing was added in 1939.

The first convent/school, serving what was then St. Boniface Church, was built in 1882. Both moved into the old church when the new one was built in 1892. A new convent was built in 1908, to be replaced in 1953 by this spacious building which could house 20 sisters. In June 1991, the three remaining sisters moved into ST. Mary's White House. The convent then became Mary Hall, housing meeting rooms, Alternative Learning Center, Freedom Plus Recovery Center, and school art classes. It was purchased by the city of Melrose in December 1998 and given to the Melrose Area Historical Society for use as a museum. St. Patrick's Church also had a convent large home built by pioneer resident Peter Pallansch. In 1881 a rectory was built a 6 E 1st St S (a private home today), and the sisters later moved into it.

On Feb 26, 1949 Lucky Lady, a Boeing B-50 Superfortress bomber, piloted by Melrose native Captain James Gallagher, took off from Carswell Air Force Base, Forth Worth, TX. It carried a large cargo of food, bedding, and toiletries for the 14 crewmen who would take the plane on its 4-day trip. The only thing Lucky Lady couldn't carry was enough fuel to keep it airborne for the whole trip. It was refueled in mid-air several times, with highly flammable high octane fuel. Total air time was 78 hours 54 minutes; average 249 miles per hour. When the news broke of this first successful non-stop circumnavigation of the globe, it made the front page of the Minneapolis Tribune, which also ran a series of comic strips about the adventure.

The celebration of Capt. Gallagher's triumph started with a caravan of cars which left Minneapolis on May 20, (coincidentally the 22nd year of Lindbergh's landing in Paris. Bands accompanied it through St. Cloud.When the caravan arrived in Melrose, it joined a 40 unit parade. The 28 year old Gallagher, his wife, Mary, and baby daughter, Kathleen rode in an open car a F-882 fighter planes did acrobatics overhead. Governor Luther Youngdahl and famed radio commentator Cedric Adams led the ceremonies at the Legion Park.Gallagher retired from the Air Force in 1972 as Vice Wing Commander. In 1984 he received the Jimmy Doolittle Award from the Air Force for his flight. He died in Washington DC on Feb. 24, 1985.

Some early Melrose hat makers were the Grein sisters (c1906), the Hart sisters (c1908), Tillie Latzka, Elizabeth Pickard, the Thoreson sisters, and Mrs. John Lampert. The worked out of their homes. In 1900, Margaret Stafford planned to open a hat shop at 219 E Main. Recently widowed, with two little girls to support, she took a course at a St. Paul millinery and worked hard to prepare for the grand opening of her Millinery and Dressmaking Parlors. That night, the building burned to the ground. She had no insurance, but the community rallied and the St. Paul Millinery agreed to stand half the loss. She re-opened at 430 E Main. Later that year, she married druggist William Stock.

In 1906, she moved her shop to the back room of his pharmacy at 409 E Main. The Stocks moved away later that year. Burns Millinery opened at 0 S 4th Ave E in 1912. Subsequent owners were Mrs. C. Erickson in 1914 and Elizabeth McCoy in 1916. Mary Lockhart became a Melrose legend as she operated her hat shop at 203 E. Main Street from 1939 to 1959. She displayed her hats in the front room and sometimes lived in the rear. An imposing figure in her long sweeping dresses and high piled hair topped with one of her chapeaux, she called her customers honey and darling and convinced each one that she had chosen the best, most flattering hat.

Francis Lent was a Melrose storekeeper until 1942, when he sold Lent Grocery and enlisted as a cadet in the US Army Air Force. On July 10, 1943 1st Lieutenant Lent was sent to the South Pacific theatre of war. A month later, he shot down his first Japanese Zero. By October, he had brought the total to 6, qualifying him as an Ace Pilot. By November, he had added 2 more to his score. He credited his success to his trap shooting days in Melrose. He shot down 8 planes in 4 months to earn the Air Medal (Oak Leaf Cluster) and Distinguished Flying Cross and Silver Star.

By Feb. 1944 he was ranked one of the top 11 of the Southwest Pacific's 5th Air Force fighter aces. The 26 year old received his Captain's commission that July. In 1945. With 11 enemy planes and a few probables to his credit, Lent, who was scheduled to return home to his family and fiancée, volunteered to fly a mission for someone else. The P-51 Mustang, T-Rigor Mortis, was unfamiliar to him which caused him to crash during an attempted landing in New Guinea. His death was officially announced on June 22, 1945. The memorial service was at St. Boniface Church on July 7, 1945.

In 1920, a group of businessmen built a theater at 414 E Main Street. Steam heated and fireproof, it cost $50,000. It had an orchestra pit, fully equipped stage, and dressing rooms for live performances and a projection booth for movies. The owners offered a prize for the best name. The winner was the Olympic, but when the theater opened on September 19, it was called simply The New Melrose Theatre. Later it was called the Olympic and finally The Melrose Theater. George O'Brien, Sr. and his family arrived in 1937 to manage and eventually buy The Melrose. The movies were strictly family fare. "Gone With The Wind" was the only picture it ever ran rated 'B' by the Legion of Decency. Ticket prices when the theater opened were $1.00 for adults, 40 cents for kids. The Depression saw them creep down to 19 cents. Wednesday was Bank Night when a patron in the right seat might win from $ 5.00 to $ 50.00. O'Brien Sr. died in November, 1966, and the theater closed. George O'Brien, Jr. arrived to become the manager the following year. Four days before the premier, "The Singing Nun", the marquee collapsed and had to be removed. It was a sign of thing to come. The Melrose closed permanently 8 months later. This display contains the ticket window and much of the original equipment, including the dreaded hook, which speedily ended the careers of bad performers. Its bamboo handle and business end are held together with many layers of tape. There is no doubt that in Melrose, somebody got the hook.

August and Louisa Lindbergh and son Charles were among the first white settlers in Melrose in 1859. A hired farmer with no formal schooling, August had risen in Sweden to become a banker, personal secretary to King Charles XV, and member of Parliament. He was considered a wild-eyed radical who wanted to improve public transportation, abolish the whipping post, and let peasants vote. He got his way with the whipping post issue, but trumped-up charges against him by his enemies lost him his bank job.

He was 50 and his wife was 21 when they sailed for America with infant Charles. They homesteaded on 40 acres of woodland east of the future city of Melrose. In 1862, August lost his left arm in a sawmill accident. His 2-year convalescent period gave him time to share his world and political views with his son. After he recovered, August modified his tools so that he could work one-handed. When Sioux invaded the farmyard and stole his special axe, Louisa faced them down and made them give it back. Their famed grandson, Charles Lindbergh, Jr., spent most of his summers as a child and young man visiting his grandparents farm near Melrose.

He became an instant hero when he flew the first solo non-stop flight across the Atlantic Ocean in 1927. August Lindbergh was at various times town clerk, village recorder, postmaster, school district clerk, banker, and Stearns County Justice of the Peace. A building on his land became the town's first school. In 1889, the Lindberghs went to live in Little Falls with Charles, Sr., who was an attorney and Minnesota Congressman. August died in 1895. Louisa then lived in Melrose with her daughter, Linda Seal. August and Louisa and three of their young children are buried in Oak Hill Cemetery.
Museum - Melrose Area Historical Society - Melrose, MN | Copyright ��� 2013
SmartSearch
All Rights Reserved